Wednesday 13th July
Today's travel saw us on the road early from Bagani heading towards the the town of Rundu located in the Kavango province some 19okm away. This would end up taking us around 3 hours arriving late morning for an early lunch and then a free afternoon.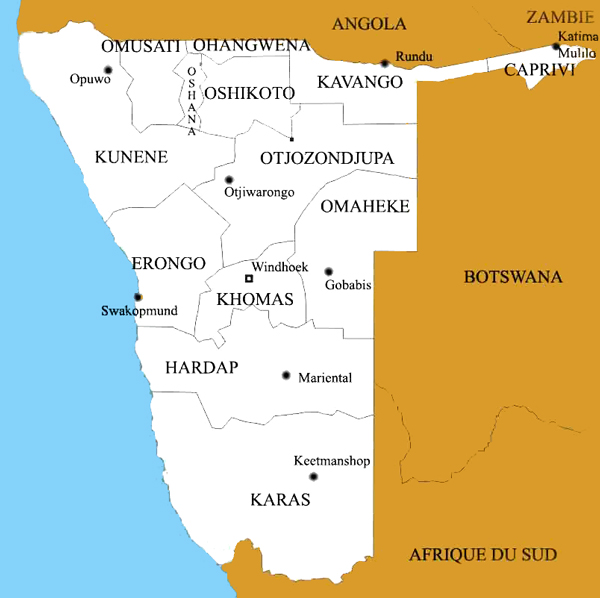 Our campsite for the night would be N'Kwazi Lodge located on the banks of the Okavango River  and a stones throw from Angola….it was literally a stones throw….or a short mokoro ride across croc infested waters as the kids who live in Angloa do each day when they attend school in Namibia
We had a couple of options available to us that afternoon. We could take a boat trip on the river or visit a local village. As a family we chose the village visit but before that commenced mid afternoon the first thing that was on the agenda was doing some washing. In fact that chore was on everyone's agenda and before long the campsite looked like a Chinese laundry but at least we would have some reasonably clean clothes for the coming days.
Mid afternoon our village guide arrived and we set off on foot down the sandy track from the camp towards the what would be the first "village" (more of a collection of huts) we would visit.The area is essentially a large plain and regularly floods during the wet season and floods to depths that consume entire communities. One of the bridges we crossed over had been washed out 5 times before the local council decided that it was pointless to keep replacing it.  The volume of water just destroys everything in it's path. A depth gauge has been in installed in the local area to warn the locals of impending flooding….again necessity is the mother of invention so it is a stick that is around 5 metres high with colored markers to tell residents when to evacuate. Funnily the starting point to get worried about flooding was at around 2 metres. Once the waters recede then the compounds and communities are rebuilt.
Our guide was a liaison between the local communities and looked after their economic development. As we walked he gave us a history lesson on Namibia, it's battles and eventual independence. I had read a great deal about this but he certainly added to my knowledge. Growing up in the late 70's & 80's I remember news reports about the ongoing wars in parts of Africa and now we were traveling in some of the areas where the fighting had been.He was also open to all and any questions giving answers and his personal thoughts which was refreshing.
A short walk  brought us to a fenced (sticks and wire)compound where from memory around a dozen huts were located. In the centre of the compound was the communal kitchen where daily the two meals they eat a day are prepared (breakfast and dinner).
The huts themselves are made from sticks shaped into a circle similar to teepee then the walls are formed from a mixture of animal dung & termite mound mud which is packed between the sticks and hardens. The roof is then thatched and essentially there you have it. Due to the conditions , more to the point due to the heat the render will eventually crack as the moisture evaporates so huts must be re-rendered every 2 years. For us it's hard enough having to paint our house every 7 years.
We were able to get into a couple of huts and internally they would measure at a guess no more than 10m squared (if that). One hut was home to a family of four where mum & dad slept in a bed and the children on the ground. A couple of cabinets took up the rest of the space. Another we poked our head into was sleeping space for 5 boys (3 in the bed and 2 on the floor – age dictated who slept where). There are no formal bathrooms attached to these huts, there is a small area behind each one for showering (taking a scoop of water from a bucket) and if needed doing number 1's. For number twos they leave the compound and find a spot of privacy.
In spite of how we may view their living arrangements they were healthy and more importantly happy. The children had an 8km walk to school each morning and then 8km back in the afternoon. They must wear shoes at school but we would see them walking barefoot with their shoes slung around their necks as they moved along the sandy tracks. We also passed women carrying large loads on their heads (including one with a large bucket of water who effortlessly…well it looked effortlessly walked swaying side to side without losing a drop ) who had been shopping in Rundu and were heading back to Angola. As alluded to earlier many children come across the river each day from Angola to attend school as their education options back home aren't as plentiful.
The occupants of the community demonstrated how they ground sorghum which is part of their staple diet  and a daily job for the women of the village. After it has been ground it is cooked for communal eating. As well as growing what crops they can they also raise cattle. The boys and men work the land.
We then moved onto another family who lived in a smaller compound and were informed that they were lower on the socioeconomic scale. The huts were much the same but one thing we did see was how they bake one of their staples…… sorghum buns. They were begin baked in a 40 gallon drum that has coals placed around and on top of it. As they were removing a baked batch we asked if we could try one and for the price of a Namibian dollar (NZ$0.10) we were able to  – man they were fantastic. Right up there with a good artisan baked loaf.
We then moved onto another family who were at the lower end of the socioeconomic scale and lived in what could be described as a shanty shack. They had children but again they looked content (resigned?) to their lot in life. The funny thing was that some huts had satellite dishes and they all had a cellphone. (we believe the sat dishes were for watching the English premiership as they love their football)
In Auckland terms you could say we went from visiting  Remuera to Howick to Otara (apologies to any readers who live in those suburbs – personally I would rather live none preferring the ambience of the Namibian desert)
It was now getting late in the afternoon so heading back we came across a group of local kids playing football on what was the local pitch (sand!) We convened a game of our kids versing the locals billing it Namibia vs the Rest of the World. Well the result was similar to the other game….the rest of the world got thumped by a group of kids with no shoes, skills and speed that I would confidently bet would run rings around most local kids teams here at home. The best thing was the ball was an old football outer stuffed with plastic. Didn't matter to these kids they played with enjoyment and passion. Again our kids ended up commenting on how talented the locals were. The next day Harald and BG presented them with one of their balls.
That afternoon was certainly an eye opener to all of us and the kids. We told them that when we get home we will take their shoes off them and they have to walk to school. The people whose homes we visited were friendly and welcoming. It just reinforced to us that you can adapt to your surroundings and how happiness is not always driven from material possessions. As a family it makes us think about what is really important to us.
The evenings had by now settled into one of routine….another fantastic dinner by Charles, a couple of beers, a briefing by Andy our lead guide on the next day followed by dishes and then just chilling out. The camp had a bar but that evening we retired early as we had an early start and quite a distance to travel the next day. We also had to readjust our clocks as apparently parts of Namibia are an hour behind. Not that it worried us ……time was not one of the things we were keeping track of.
A hot shower then it was into the sleeping bags to read a few pages before another sleep. I'm not sure what was happening in Noelle and KK's tent but BB and I had a system which gave us maximum space whilst making for easy packing each morning. As our pillows were attached to our camping mats we had purchased (and were not using) we were using the compression bags holding our clothes as pillows. As the nights were getting slightly cooler we would wear a t-shirt and shorts at night. Mornings would see us put our jackets on until the sun came up then it was shorts and t-shirt for the remainder of the day.
For the past week we had not seen anything in the landscapes that could be classed as hills. The highest things on the horizon were trees (or Giraffes)…..You could be forgiven for thinking that you were traveling through parts of Australia at times. Without the mountains, lakes and scenery that we were used to we thought we may finally start missing home but funnily enough we found comfort in the at times barren and dry views. I had adapted a well known phrase to our circumstances…"A bad day in Namibia is better than a good day at work"
Enjoy the photos…plenty more to come
Save
Save
Save
Save
Save
Save
Save
Save
Save
Save