Saturday 9th July 2016
This morning we left Chobe at 07.45am steeled for what would be the longest drive we would face on the trip which would be a little over 400km. Now 400km whilst a long way gets even longer when some of the roads are not the well surfaced superhighways that most of us are used to and you have 10 kids on-board that don't like being caged in for long periods of time. We were reasonably lucky though that the road we were traveling was blacktop for a good part of the way and quite a few stops were made.
Our first stop was not long after we left Chobe on our way towards Ngoma where we were to cross into Namibia's Caprivi Strip region. We had to stop for a Zebra crossing………in fact there were numerous Zebra's crossing the road at this point which had cameras coming out fast and furious. We also saw a few Giraffes as well roadside on the 50km trip to the border. At the border we had an uneventful crossing (or so it would seem but 24 hours later we had an issue to deal with as we tried to leave Namibia back into Botswana as 2 of our group didn't have entry stamps put into their passport by immigration officials…..as you can imagine it was our fault and it took a bit of time to sort out especially as we were exiting through a different border post. By now T.I.A was the catchphrase……This Is Africa along with Hakuna Matata, Swahili for no worries a close second)
The town of Bagani was our destination some 300+ km away. The strip is a classic example of how former colonial powers shaped the boundaries of modern Africa. The narrowest part of the strip is also a game reserve and the main road we traveled ran through it.At around 500km long and 32km wide at it's narrowest point opening up to 100km wide at it's eastern end this area is where the boundaries of Zimbabwe, Zambia, Botswana and Namibia meet.
History Lesson (thanks to the Namibia travel guide)
On a map, the Caprivi Strip appears to be a strange appendage of Namibia rather than a part of it. It forms a strategic corridor of land, linking Namibia to Zimbabwe and Zambia, but seems somehow detached from the rest of the country. The region's history explains why.
When Germany annexed South West Africa (Namibia) in 1884, it prompted British fears that they might try to link up with the Boers, in the Transvaal, and thus drive a wedge between these territories and cut the Cape off from Rhodesia. Out of fear, the British negotiated an alliance with Khama, a powerful Tswana king, and proclaimed the Protectorate of Bechuanaland – the forerunner of modern Botswana. At that time, this included the present-day Caprivi Strip. Geographically this made sense if the main reason for Britain's claim was to block Germany's expansion into central Africa.
Meanwhile, off Africa's east coast, Germany laid claim to Zanzibar. This was the end game of the colonial 'scramble for Africa', which set the stage for the Berlin Conference of July 1890. Then these two colonial powers sat down in Europe to reorganise their African possessions with strokes of a pen.
Britain agreed to sever the Caprivi from Bechuanaland and give control of it to Germany, to add to their province of South West Africa (now Namibia). Germany hoped to use it to access the Zambezi's trade routes to the east, and named it after the German Chancellor of the time, Count George Leo von Caprivi (unfortunately for them Victoria Falls stopped a clear run across to the east coast) In return for this (and also the territory of Heligoland), Germany ceded control of Zanzibar to Britain, and agreed to redefine South West Africa's eastern border with Britain's Bechuanaland. At the end of World War II the land was again incorporated into Bechuanaland, but in 1929 it was again returned to South West Africa, then under South African rule. Hence it became part of Namibia.
From the 1960's through until 1990 the strip during the struggle for independence was home to the South African Army and was in a constant state of war.  Thankfully today the region is at peace and although there are a few checkpoints along the way it is a beautiful long straight drive with not much traffic except trucks heading towards Zambia.
Apart from multiple toilet stops on the side of the road……sorry no public toilets around here boys to the left / girls to the right we stopped also on the side of the road where we set up the mobile kitchen and prepared lunch which consisted of sandwiches and what was to become Charles our cooks signature dish……coleslaw. This was awesome and became a staple feature of lunches along the way. We were also introduced to Biltong flavored cheese which although unique tasting was not enjoyed by everyone. Biltong being a form of cured and dried meat…..many meats can be and are used.
Our lunch stop was beside a collection of pipes and taps with locks. We saw one person with a wheelbarrow and jerry cans go to a tap and start to fill the cans before walking them back down the road in the wheelbarrow.Curiosity got the better of me and it turns out after talking to another local close by that this was the villages water supply. Each hut had an allocated tap and they were charged each month on their consumption hence the locks.
So whilst the road was straight and hot there was the issue of how to entertain ourselves whilst driving. On this particular day as a family we had the back of the truck which featured 2 tables so it was perfect for our active kids to read books, talk or play cards. We had been given a couple of card games that were based around African animals and Birds so this became the staple for us with the other families also borrowing the cards as the trip progressed. Andy our leader also kept the kids in check with his primary teacher skills and allowing them to use his go-pro camera.
So it was later that afternoon that we finally arrived within a short distance to our camp for the night. Ngepi camp is located on the banks of the Okavango River which flows down from Angola (which is not that far away) and through into Botswana and the Okavango Delta which was our destination the next day. This funky camp with a tagline of "get a life or just dream on" is around 4km on a sandy track off the main road. As you get make your way along the track various signs give you a sense of the proprietors sense of humor. The camp is a collection of campsites, tree huts and quirky ablution blocks with the star bath taking top honors.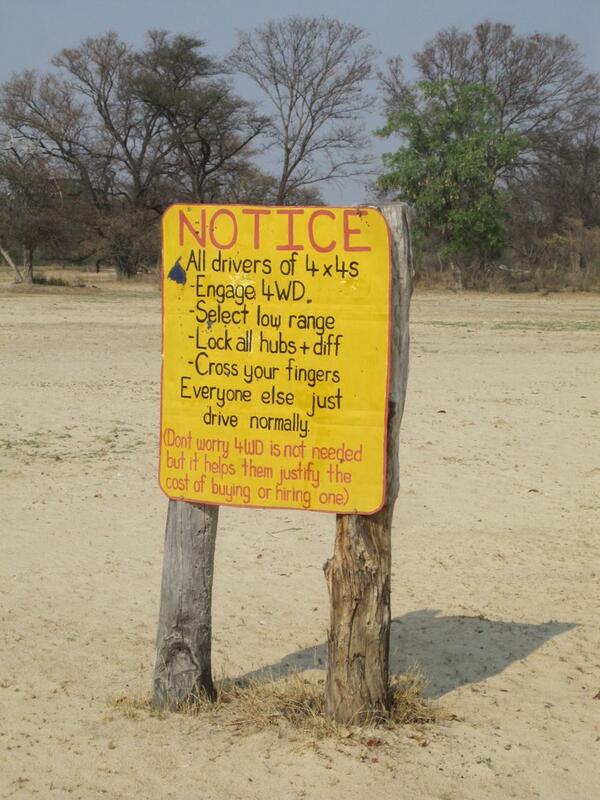 Upon at our designated spot next to the river, yet again with a sign warning of Hippos and Crocs we all swung into action in getting tents up and the kitchen out before darkness hit. Another superb dinner by Charles – meatballs with rice with a windhoek lager, a briefing of the next days plans which included an early start before we had what would our last shower for 3 days.
It was then pretty much retire to the tent as it was getting on around 9pm. With the tents being 2 person as a family we had a pink tent and a blue tent…not in terms of colors but that Noelle and KK shared one and myself and BB shared the other. We had plans around mixing it up and swapping but as it turned out this was to be the structure for the duration.
An early start next morning at 5am was shared with the hippos in the river next to us who were very vocal (and close). We had a Croc on the bank of the river close to the tents but he was in the water pretty quickly. Breakfast at 6am then our plan was to be on the road by 7am so it was tents packed, kitchen cleaned,broken down and gear onboard – overall it was becoming a pretty efficient operation.
So as planned we drove off leaving Ngepi (and showers, and electricity, and real toilets) around 7am heading back towards another border and back into Botswana towards our final destination of the Okavango Delta. In 3 days time we would be returning back to Ngepi .  To reach the border we headed through a game park so we had the opportunity for some early morning animal spotting……….
Note: – Mondays will be update day……….plenty more travel to come out of Africa yet…stay tuned!